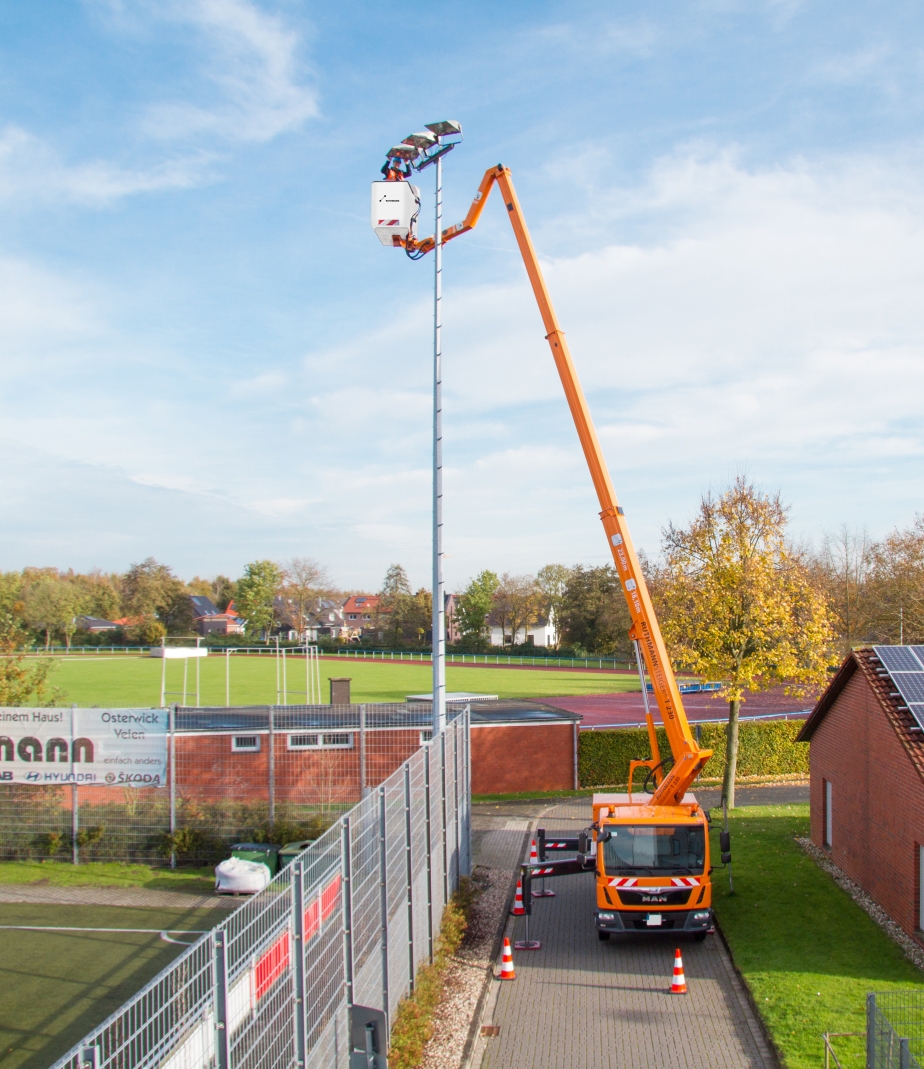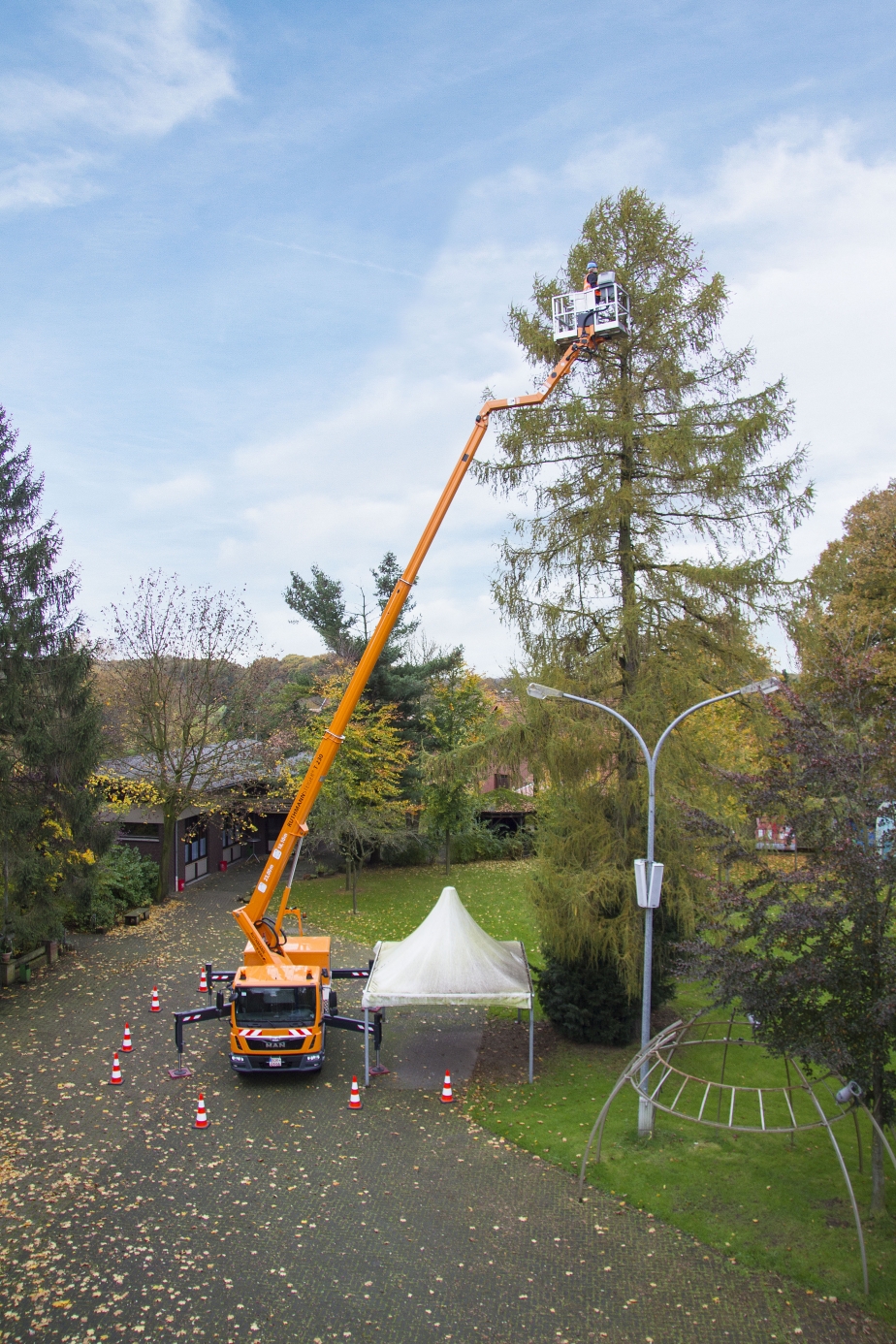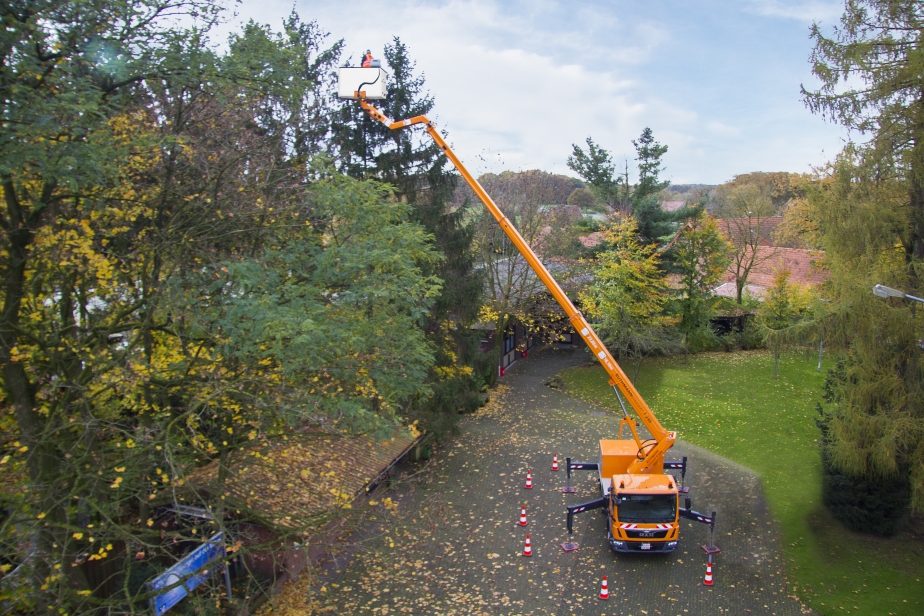 A STEIGER ® for everyone!
23.00 m working height
350 kg work cage load capacity
Impressive 18.10 m lateral reach at full
payload capacity
185° swivelling angle of the
jib (RÜSSEL ®)
Horizontal/vertical support system
Optional vertical support mechanism
to stabilize within the contours of the
vehicle
Permissible inclination to 5°
Sufficient payload capacity on 7.49 t
GVW* truck chassis
Aluminium 1.70 m x 0.86 m work cage
Optional double insulation work cage
available
Rotation angle of work cage: 2 x 90°
Total vehicle length: 7.85 m
Information and diagnostic display also
in work cage
Short wheelbase: 3.60 m
…and so much more
  *gross vehicle weight
STEIGER® T 230 XS
Permissible inclination
5°
Swivelling angle of the jib / RÜSSEL®
180°
Permissible total weight
7.490 kg
Work basket size
1,70 x 0,86 m
Work basket load capacity
350 kg
The STEIGER ® T 230 is extremely versatile. It is the ideal truck mount for rental companies, municipalities, gardeners / landscapers, painters, and industrial cleaners. With its 23.00 m working
height and impressive 18.10 m lateral reach at full cage load capacity (350 kg), the T 230 is able to carry out any given assignment with utmost efficiency.
In addition, the 7.49 t truck chassis on this model provides ample payload capacity. The T 230 can easily accommodate a container / box for extra tools and material. Furthermore, it can be operated by anyone holding an "old" Class 3 driver's licence. This is an important factor for municipalities and professional
craftsmen.
This STEIGER ® can carry out assignments on sloped surfaces of up to 5°. This is an indispensable feature when working in uneven terrain. The new work cage layout provides far greater floor space and the control panel with its integrated on-board computer – RUTHMANN's Information and Diagnostic System – offers tremendous advantages at the jobsite. The rearmounted work cage gets you to the desired object quickly and conveniently. There is room enough on the cage floor (1.70 m x 0.86 m) for the operator,
co-worker, tools, and equipment.
The STEIGER ® T 230 provides maximum safety and stability even at full cage load capacity. The standard automatic set-up / retraction mechanism saves an enormous amount of time. Because of the reduced
set-up time, objects can be reached faster and work can be completed sooner. Once the job is done, the STEIGER ® T 230 can quickly return to drive position at the touch of a button.
The horizontal / vertical support system is easy to operate. The T 230 is able to carry out assignments in narrow streets and cramped conditions without any degree of difficulty. Outriggers can be extended
within the contours of the vehicle, on one side only, or on both sides of the vehicle. The STEIGER ® automatically assigns the safe maximum performance capabilities.
The 2 x 90° rotating cage and 185° swivelling angle of the jib (RÜSSEL ®) guarantee maximum versatility/
manoeuvrability even under tough operating conditions such as tree maintenance / cutting assignments.
The short 3.60 m wheelbase is perfect for jobs that need to be carried out in cramped, inner-city neighbourhoods.
Truck-mounted aerial work platforms must be versatile in order to perform a wide variety of assignments. The RUTHMANN STEIGER ® T 230 is the perfect truck mount for so many different types of applications.
Contact us by phone, fax, or email to find out more about the many advantages and performance capabilities of our time-tested STEIGER ® products. We look forward to hearing from you.